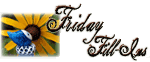 Here I go again with another Friday Fill-In! Click here if you would like to participate!

1. My car gets awesome gas mileage and drives so smoothly...i love my car!

2. My anatomy lecture class 1st major exam is coming up next Monday, as long as I wake up from my bronchoscopy.

3. Lately, things seem crazy, hectic, and hard to understand why they are happening. I know God has a reason though, and hopefully things will turn around soon.

4. The Lake is one of my favorite 'hiding' places.

5. What happened Wednesday morning was amazing and so God-driven, regarding my grandfather. It's amazing how God works little things into situations.

6. Finding a cure for CF is not impossible!

7. And as for the weekend, tonight I'm looking forward to relaxing, but it will be coupled with studying; tomorrow my plans include resting and studying and Sunday, I want to really be able to make it to church!